This past Sunday we had the honor of hosting our release reading at Elliott Bay Book Company. We loved getting to see so many people from the community come out to support our amazing poets! New Floating Bridge Press President, Michael Schmeltzer, (more on that soon) got things started.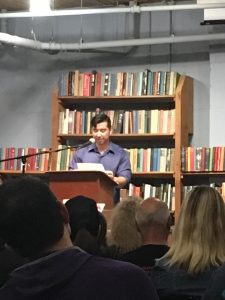 First up was Ben Cartwright, a finalist in the Floating Bridge Press Chapbook Competition this year. He wowed us all and made us laugh with poems from his chapbook The Meanest Things Pick Clean.
Next, Alex Vigue, the other finalist in this year's chapbook competition, took the stage to make things sexy with poems from his chapbook The Myth of Man.
And finally, chapbook award winner, Katy E. Ellis, read the entirety of her chapbook Night Watch and it was a treat!
Thank you all for an amazing evening of poetry!