We believe that poetry deserves promotion and increased attention in our community. We want to bring well-written, well-edited poetry to the attention of as many people as possible, including those who cannot afford to buy our books. So, each month we give away multiple copies of a single book on Goodreads.
Each title repeats every six to nine months, so check back later if you miss out on something you wanted. Or follow us on Facebook or on Twitter to hear about each month's free book.
If you discover poets whose work you really like, help us get the word out by sharing our book notices online, leaving a book review on Goodreads, or telling your friends about it—we really appreciate it!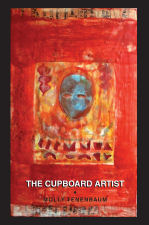 The Cupboard Artist by Molly Tenenbaum
"These densely imagistic poems are no stream of consciousness, but instead a stream of conflicting desires. Molly Tenenbaum presents us with food and flesh and the hunger that comes from wanting them even as you hold them in your hands-in such a richly populated world of things, she gives us true longing. While the possibilities are endless—say this, say that, 'Say he never came back. Would you still / love to be alone?'—the woman, that held-at-a-distance 'her,' that these poems turn their gaze on can't decide how to embrace the incompletion of desire. And so we join her in the pleasures of hunger, like the bees, 'confused, so much air / between them and the flowers.'" —Keetje Kuipers
To win one of the 50 copies we're giving away, enter our giveaway here. Good luck!