Description
Author: Arlene Naganawa, Finalist of the 2016 Floating Bridge Press Chapbook Competition
Year: 2016
ISBN: 978-1-930446-43-4
Pages: 27
---
Arlene Naganawa's The Ark and the Bear is a series of predominantly prose poems  that transport us through fable-like language to the heightened emotions of adolescence and explore how experiences like religion and war are filtered through the lens of childhood.
Arlene Naganawa is the author of two chapbooks, Private Graveyard (Gribble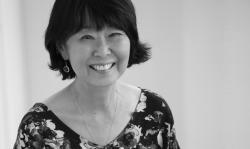 Press) and The Scarecrow Bride (Red Bird Chapbooks). Her poetry has appeared in Caketrain, Cider Press Review, Crab Orchard Review, Diner, Floating Bridge Review/Pontoon, Flying Chickadee, New Delta Review, Poetry on Buses, Sow's Ear Poetry Review, The Comstock Review, The Seattle Review, and other publications. She has received Seattle Arts Commissions individual literary arts awards. Much of her work is influenced by childhood summers spent in Whitefish, Montana, and in Seattle, Washington.